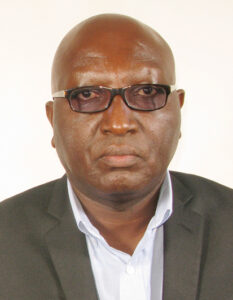 Duncan Omanga, program officer for both the Social Science Research Council's (SSRC) African Peacebuilding Network (APN) and Next Generation Social Sciences in Africa (Next Gen) program, sat down with new Next Gen Advisory Board member, Ugandan professor of political science Kasaija Phillip Apuuli, to discuss a range of issues on higher education in Uganda as part of ongoing reflections on Next Gen funding of doctoral studies in Africa. These conversations are part of Next Gen's initiative to interpret data arising from a decade of funding doctoral students in the social sciences and the humanities in African universities.
Thank you so much, Prof. Kasaija, for sparing time to talk to us about some of the emerging issues on Ugandan higher education. Please tell us briefly about your intellectual pursuits and research interests.
I combine training in politics and law. I have a bachelor's degree in political science and postgraduate training in international law (master's and doctorate). In between receiving those degrees, I also attended law school. Since I started teaching at the university, my research has revolved around the issues of international criminal law, conflict, security, peacebuilding, and integration in Africa. I have authored many papers and book chapters in these areas.
Uganda has emerged as possibly one of the most interesting sites of intra-Africa academic mobility, outside of South Africa, especially for doctoral studies in the social sciences. Kindly comment on how universities like Makerere University have managed to attract students from across the region, and what lessons other countries can take from Uganda. 
In my considered opinion, Makerere University continues to attract PhD students for a number of reasons, including its pedigree as an academic institution of high repute and the highly trained academic staff. With regard to the pedigree, Makerere University is a recognized name all over the world. It has trained people who have eventually became presidents and prime ministers of several countries in Africa and world-renowned academics. Secondly, it has the best-trained staff in the country. It should suffice to note that the majority of people possessing PhD degrees in Uganda can be found at Makerere University. Thus, doctoral students are attracted to Makerere because of its name and the availability of supervisors.
According to the data Next Gen has collected over the years, the dominance of Makerere University in Uganda is immense. Of all grants awarded to Uganda-based scholars, nearly 83 percent were won by Makerere-based doctoral students. The second-most successful university from Uganda at winning Next Gen grants is Mbarara University, accounting for about 13 percent of awards going to Uganda-based fellows. How do you explain such an incongruent dominance, and what does this mean for graduate studies in Uganda?
Makerere University dominates and will continue to dominate in the area of grant selection because its students are grounded in both theory and practice. The academic staff at Makerere University are products of some of the best universities in the world, and thus offer their students the best skills in research grants proposal writing. Other universities in Uganda, to the best of my knowledge, do not have the same capacity. Thus, it is no wonder that Makerere PhD students come out on top at winning research grants, whether it is Next Gen funding or any other funding. 
From Next Gen data on Uganda-based fellows, we often receive extremely competitive applications/proposals from MISR (Makerere Institute of Social Sciences Research) students. How has MISR influenced and shaped graduate studies in Makerere in particular, and Uganda in general?
MISR is the social sciences research hub at Makerere University. Traditionally, social science research is conducted at MISR. Though at some point the institute became a consultancy rather than a research hub at Makerere, in the recent past MISR has rediscovered its niche of conducting social research that influences national policy. This can be partly attributed to its current director-professor, Mahmood Mamdani, who has insisted that MISR engages in what it does best: conduct social research and act as an academic unit. For instance, he has introduced doctoral studies in the institute modeled after the North American system of coursework and research, ensuring that MISR graduate students are grounded in theory. While the institute's niche as a hub of theoretical grounding is well known at Makerere, I am not sure about its influence on the rest of the country. I would imagine in the Ugandan public psyche, the institute is more known for the recent public fallout between its director and some of his staff!
Do you think the MISR model is something that other sub-Saharan universities should consider? If yes, in what ways? If no, kindly explain. 
I am not very sure whether a unit like MISR can be replicated. The unit was established in 1948 to shape the colonial government's research agenda in humanities. Certainly, the unit has seen changes over the years, especially in terms of its research output. While at one time it was only engaged in consultancies, it has now been reoriented to do more academic teaching. It requires funding and all the other management and administrative requirements to set up a unit like MISR, and I am not sure whether these are available in many universities in sub-Saharan Africa.
As a program, we are concerned with the gender gap from applications from Ugandan PhD students. From data collected over a decade, male applicants (67 percent) from Uganda were twice as likely to win a fellowship with Next Gen compared to female applicants (33 percent). What accounts for the wide gender imbalance in winning grants by Uganda-based social scientists?
Though the number of female students doing humanities at the undergraduate level has increased in recent years, the same cannot be said of those that are pursuing graduate studies. This could be attributed to the fact that many female graduates opt to get married after undergraduate studies. In many cultures, postgraduate education and marriage for the female gender are considered to be mutually exclusive. Thus, the disparity in the numbers of grant applicants between men and women.
As a Ugandan scholar, what is the future of social sciences and the humanities in the academy, and do you think sufficient support is being offered to these disciplinary fields (compared to STEM disciplines)?
Some governments, like the current one in Uganda, have been giving the impression that pursuing courses in humanities is useless! The Ugandan government has argued that graduates of humanities are unemployable and deliberate efforts have been made to promote STEM studies. In my considered opinion, this is a misguided view. Social sciences and humanities are as important as sciences. Understanding how society functions is as important as scientific inventions. Thus, these disciplines should be promoted in tandem. In my opinion, the future of the humanities is bright as we seek to understand phenomena like globalization, universal justice, human rights, integration, etc. It is only social science that can give an explanation of why such phenomena exist.
Finally, in your own words, what should emerging social scientists in Africa do and which decisions should they make now in order to make a successful career in the academy?
My advice is that they should conduct more research. They should not take existing theories as a given, but should question and possibly come out with new explanations. Social science is not like pure science where dogma prevails. It is also vitally important that scholars put the interests of the students at the center of their universe. As it has been said, a good researcher and teacher is one who possesses a preparedness and passion to use their intellectual gifts, endowment, and trained skills to benefit their students.