Hon. Zulekha Hassan is a symbol of leadership, resilience, and determination. This second term member of the Kenya National Assembly and representative of Kwale County made history as the first woman parliamentarian to enter the chambers of the National Assembly with her baby. Her advocacy for a change in Kenya's breast-feeding policy has attracted a lot of attention locally and internationally.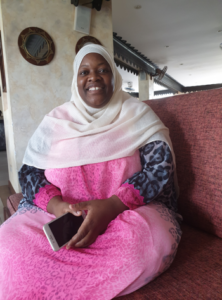 The National Assembly of Kenya in March 2017 adopted the Breast-feeding Mothers Bill. 1The Breastfeeding Mothers Bill, 2017 – http://kenyalaw.org/kl/fileadmin/pdfdownloads/bills/2017/BreastfeedingMothersBill_2017.pdf Specifically, the bill in Part II: 5 (i) provides that "breast-feeding mother shall only use the lactation place during working hours for breastfeeding or expression of milk."
At the time Hon. Zulekha brought her baby into the National Assembly Chamber, the bill had not been passed into law. However, Hon. Zulekha stated in my interview with her on 28 November 2019 in Mombasa Kenya that as an elected MP, she had a responsibility to represent her constituency at the Parliament and would not be deterred for being a nursing mother.  Hon. Zulekha told me in the interview that she carefully planned her move, entered the chambers with her baby and sat between two MPs (men, who defended her stoutly against eviction from the Chamber). She explained further that she timed her entry well, reportedly targeting the time the Speaker of the National Assembly would proclaim the commencement of the business of the day.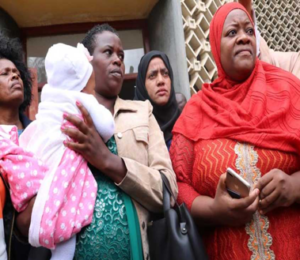 Hon. Zulekha was ordered2https://www.bing.com/videos/search?q=zulekha+hassan%27s+baby+drama&&view=detail&mid=F7956AEF4F8A11B9DAA5F7956AEF4F8A11B9DAA5 out of the Chamber by Hon. Christopher Omulele, the Fourth Chairperson of Committees who stood in for the Speaker of the National Assembly for the day. She and her 5-month-old daughter were supported by other women MPs as well as some men MPs. She did not leave without protesting. The women MPs that accompanied her maintained that, "babies are not atomic bombs, they won't explode in the House."3https://www.globalcitizen.org/en/content/kenya-breastfeeding-parliament-zuleikha-hassan/ She also called on the parliament to provide a more "family friendly environment" for new mothers at their workplaces.
The order for the removal of the MP and her baby by the Speaker of the National Assembly caused an uproar in the House and sparked off a wider debate within the country and on social media. It also made Kenya the focus of international media attention as the incident occurred towards the end of the 2019 World Breastfeeding Week.
It can be argued that the Breastfeeding Mothers Bill aligns with the Protocol to the African Charter on Human and People's Rights on the Rights of Women in Africa (Maputo Protocol), which Kenya ratified in 2010 (06/10/2020).4https://au.int/sites/default/files/treaties/37077-sl-PROTOCOL%20TO%20THE%20AFRICAN%20CHARTER%20ON%20HUMAN%20AND%20PEOPLE%27S%20RIGHTS%20ON%20THE%20RIGHTS%20OF%20WOMEN%20IN%20AFRICA.pdf The Protocol provides in Art. 14:2 (b) that state parties shall "establish and strengthen existing pre-natal, delivery and post-natal health and nutritional services for women during pregnancy and while they are breast-feeding". Even though the Breastfeeding Mothers Bill was adopted in 2017, it was not passed into law. The Bill in Part II (8) provides a penalty for offenders – "A person convicted of an offence under this Act shall, on conviction, be liable to a fine not exceeding five hundred thousand shillings or to an imprisonment for a term not exceeding one year, or to both.5http://kenyalaw.org/kl/fileadmin/pdfdownloads/bills/2017/BreastfeedingMothersBill_2017.pdf Hon. Zulekha maintained during the interview that at the time she went to the Chamber with her baby, the Parliament had not put any Creche in place. As widely reported in the local media,6https://www.youtube.com/watch?v=KGEhVu5fQyk a room was hurriedly furnished the day after the incident. But Hon. Zulekha noted in the interview that everything in the room was brand new and no single baby or nursing mother was found in the lactation room.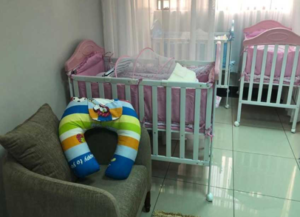 Emboldened by support from her family, some fellow women MPs, working mothers, and Kenyan citizens, Hon. Zulekha was strategic in making her voice heard in the struggle for the rights of new mothers in Kenya.
Asked on how women MP could be effective lawmakers, Hon. Zulekha emphasized during the interview that:
"in order to make positive impact as a woman MP, you must be driven by passion, sufficiently angry at the status quo and determined to make a change, plan and strategize before taking any steps, network with like-minded MPs (men and women alike), let your family into your vision and obtain their support. Hon. Zulekha reiterated the place of education in the overall development of the woman."
In addition, she underscored the important role of women in national development.
Asked on her advice for Africa on role of women in development, Hon. Zulekha maintains during the same interview that:
"a country that does not encourage and ensure that women play a critical role in development is like a bird attempting to fly with one wing or an individual attempting to clap with one hand."
The impact of Hon. Zulekha's action is spreading beyond the Parliament. On December 2nd, 2019, a 5-star hotel in her county, Diani Reef Beach Resort & Spa, upon opening for business, had a lactation room for their members of staff.  This act was credited to the advocacy of Hon. Zulekha for the rights of new mothers to breast-feed their babies at the workplace.
Perspectives from Breastfeeding Practices in Other Countries
The Prime Minister of New Zealand Jacinda Ardern made headlines when she brought her baby to the UN General Assembly in 2018. PM Ardern is on record as the first female world leader to bring an infant to the meeting in New York.7https://www.washingtonpost.com/world/2018/09/25/theres-baby-un-general-assembly/
The International Labour Organization (ILO) recommends8ILO Recommendation, 2000 (No. 191)  Paragraph 9 that where practical, provision should be made for the establishment of facilities for breast-feeding under adequate hygienic conditions at or near the workplace. In some countries, while there are laws specifically addressing breastfeeding, in others, it is contained in employment laws. For instance, in South Africa, the Basic Conditions of Employment Act (BCEA) stipulates that employees with infants must be allowed two breaks of 30 minutes each, every working day, to allow for breastfeeding or expressing milk. These breaks are mandatory for the first six months of the child's life. The BCEA prohibits employers from requiring or allowing a pregnant or breastfeeding employee to perform work that is hazardous to her health or the health of her child. This means employers must assess and control risks to the health of pregnant or breastfeeding employees and that of the fetus or child. In Tanzania, the Employment and Labour Relations Act provisions are similar to those of South Africa.
In 2019, Kemi Badenoch, Tory Member of Parliament representing Saffron Walden and Stella Creasy, Labour MP representing Walthamstow carried their babies at their swearing-in ceremony into the UK Parliament.
All these women have demonstrated that being a nursing mother is not and should not be a deterrent to the right to work or engage in public service.
Conclusion
Hon. Zulekha's views also align with the Maputo Protocol Article 9: Right to Participation in the Political and Decision-Making Process which calls on State Parties to take specific positive action to promote participative governance and the equal participation of women in the political life of their countries through affirmative and to ensure increased and effective representation and participation of women at all levels of decision-making.9PROTOCOL TO THE AFRICAN CHARTER ON HUMAN AND PEOPLES' RIGHTS ON THE RIGHTS OF WOMEN IN AFRICA: THE MAPUTO PROTOCOL https://www.un.org/en/africa/osaa/pdf/au/protocol_rights_women_africa_2003.pdf
She has done what many others in similar positions have failed to do in support of the rights of working mothers. I hope the Breast-feeding Bill is passed soon to ensure that public and private institutions and organizations establish functional crèches or lactation rooms where breastfeeding mothers feel comfortable and secured to express their breast milk and nurse their babies. This will ensure the promotion of dignity of women as provided in Article 3 of the Maputo Protocol on the "Right to Dignity:"10https://www.un.org/en/africa/osaa/pdf/au/protocol_rights_women_africa_2003.pdf
Every woman shall have the right to dignity inherent in a human being and to the recognition and protection of her human and legal rights.
Every woman shall have the right to respect as a person and to the free development of her personality.
References
1

2

https://www.bing.com/videos/search?q=zulekha+hassan%27s+baby+drama&&view=detail&mid=F7956AEF4F8A11B9DAA5F7956AEF4F8A11B9DAA5

3

https://www.globalcitizen.org/en/content/kenya-breastfeeding-parliament-zuleikha-hassan/

4

https://au.int/sites/default/files/treaties/37077-sl-PROTOCOL%20TO%20THE%20AFRICAN%20CHARTER%20ON%20HUMAN%20AND%20PEOPLE%27S%20RIGHTS%20ON%20THE%20RIGHTS%20OF%20WOMEN%20IN%20AFRICA.pdf

5

http://kenyalaw.org/kl/fileadmin/pdfdownloads/bills/2017/BreastfeedingMothersBill_2017.pdf

6

https://www.youtube.com/watch?v=KGEhVu5fQyk

7

https://www.washingtonpost.com/world/2018/09/25/theres-baby-un-general-assembly/

8

9

10

https://www.un.org/en/africa/osaa/pdf/au/protocol_rights_women_africa_2003.pdf