The African Peacebuilding Network (APN) of the Social Science Research Council (SSRC) is pleased to announce the 2019 recipients of its Individual Research Grants (IRG) and Book Manuscript Completion Grants (BMG).
The program awards these two unique grants to African researchers based in African universities, research institutes, and other policy-related and civil society institutions. Since 2013, the APN has supported the research of 144 scholars through 156 research grants.
The APN supports independent African research on conflict-affected countries and neighboring regions of the continent, as well as the integration of African knowledge into global policy communities. APN grants facilitate the production of high-quality African peacebuilding research and promotes its visibility among policy practitioners and scholars around the world, including Africa, with the aim of influencing academic discourse and effecting policy change.
 The 15 recipients of the IRG listed below are pursuing a diverse range of topics related to conflict and peacebuilding in Africa, such as farmer-herder conflicts, the role of identity and gender in conflict, political violence, transitional justice, citizenship rights, and religion. The two recipients of the BMG are IRG alumni from 2018 and 2017 respectively, whose work will focus on peacebuilding, conflict, and migration.
Individual Research Grants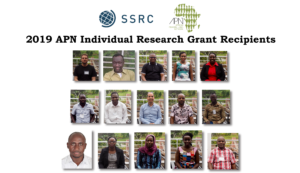 The Individual Research Grant (IRG) supports six-months of field-based research, through which recipients produce research-based knowledge that is relevant to and has a significant impact on peacebuilding scholarship, policy, and practice on the continent. The 2019 Individual Research Grant cohort features fifteen individuals from Uganda, Nigeria, Kenya, Morocco, Ghana, Rwanda, Sudan, Zimbabwe, and South Africa.
This year's APN Individual Research Grant recipients are as follows:
Abubakari Ahmed, "The Political Ecology of Cattle Ranching for Farmer-Herder Water-Land Conflicts in the Semi-Arid Regions of Ghana," University for Development Studies, Wa Campus, Ghana
Umar Ahmed, "Countering Islamic Fundamentalism in Northern Nigeria Through Regulating Language of Sermons: A Discourse Analytical Approach," Usmanu Danfodiyo University, Sokoto, Nigeria
Mohamed Abdelbagi Gismalla Bakhit, "South Sudanese Refugees in Sudan Border: Community Citizenship and Refugee Systems," University of Khartoum, Sudan
Baba Mai Bello, "Language as a Tool for Countering Violent Extremism: Mobilisation Against the Boko Haram Insurgency," University of Maiduguri, Nigeria
Isaac Dery, "Building Peaceful Masculinities: Challenges to Men's Violence in Africa," University of South Africa (UNISA), Pretoria, South Africa
Linnet Hamasi, "Women, Peace and Security in Northern Kenya: Investigating the Implementation of the United Nations Security Council Resolution 1325 and its Policy Implications," Kenyatta University, Nairobi, Kenya
Salim Hmimnat, "Religious-Based Cooperation as a Tool for Sustainable Peacebuilding in Africa: Insights from the Moroccan Experience," Mohammed V University, Rabat, Morocco
Marie Grace Gasinzigwa Kagoyire, "Intergenerational Transmission of Trauma in Rwanda: The 1994 Genocide Legacies and its Impacts on Reconciliation Among the Second Generation," Duhumurizanye Iwacu, Rwanda
Justice Richard Kwabena Owusu Kyei, "Institutionalization of Political Vigilantism in Ghana's Democratic Governance: Conflict, Violence and Peacebuilding," Kwame Nkrumah University of Science and Technology, Kumasi, Ghana
Wesley Mwatwara, "On Border Securities and Insecurities: RENAMO Violence and Everyday Life in Honde Valley, 1980s-2016," University of Zimbabwe, Harare, Zimbabwe
Resty Naiga, "Exploring Conflicts and Unity under Community-Based Water Management in Rural Uganda," Makerere University, Kampala, Uganda
Onyinyechukwu Onyido, "Experiences and Coping Mechanisms of Women In Post-Conflict Niger Delta Communities: An Intersectional Approach," University of Port Harcourt, Nigeria
Yahya Sseremba, "The Making Of Ethnic Patriots And Its Implications For Ethnic Violence In Western Uganda," Makerere University, Kampala, Uganda
Gideon Va Riet, "Transitional injustice: The spatial politics of crime in contemporary South Africa," North-West University, South Africa
Njoki Wamai, "Redefining Justice, Security and Citizenship after the International Criminal Court (ICC) Intervention in Kenya," United States International University- Africa, Nairobi, Kenya
Book Manuscript Completion Grants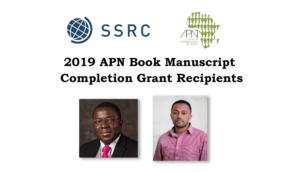 The APN also awards two Book Manuscript Completion Grants to APN Alumni annually. Book Manuscript Completion Grants (BMG) support APN Alumni to transform their APN projects or related peacebuilding research into publishable book manuscripts within a six-month timeframe. They also serve as a vehicle for enhancing the quality and visibility of independent African peacebuilding research both regionally and globally, while making the peacebuilding knowledge already gathered from a prior APN grant accessible to key policymakers and research centers of excellence in Africa and around the world. The 2019 BMG Cohort features two individuals from Cote d'Ivoire and Ethiopia.
This year's Book Manuscript Completion Grant recipients are as follows:
Arsene Brice Bado (Individual Research Grant 2018) – "Peacebuilding through Post-Conflict Elections: An Actor-Centered Approach"
Fana Gebresenbet (Individual Research Grant 2017) – "The Youth on the Move: Views from below on Ethiopian International Migration"
Warm congratulations to this year's African Peacebuilding Network grant recipients. The APN looks forward to working with you and seeing the results of your promising research.
If you are interested in applying for a grant from the African Peacebuilding Network, the next call for applications for the 2020 grant cycle will be released in October this year. Applications will be accepted from October 2019 through January 2020.
The African Peacebuilding Network program is funded by Carnegie Corporation of New York.